URWERK's new yellow gold UR-100 carries a message, but can communicate in the universal languages of the galaxies using light, time, space. But while C-3PO is often irritating and clumsy, albeit extremely polite, the UR-100 awakens six million forms of desire with horological daring and disruptive watchmaking.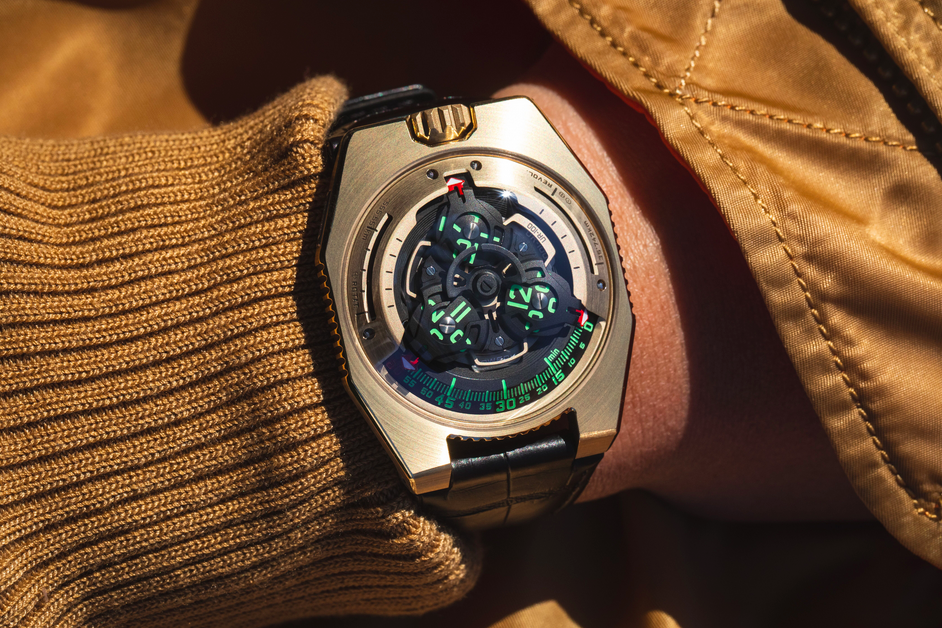 This new creation is the fourth episode in the UR-100 intergalactic saga, recounting the adventures of an atypical time instrument written, produced, and directed by the horological studio URWERK. Approaching light speed, the UR-100 pushes the boundaries of technology, design, indications, and functionality.
"Science fiction has been an inexhaustible source of inspiration since the creation of URWERK," explains co-founder Martin Frei. "I have been a sci-fi geek since childhood. My father was an engineer and worked on incredible projects, including the Apollo Lunar Rover. He was my hero and left me his love of the cosmos and his dreams."
While Star Wars' famous C-3PO protocol droid is fanatical about respecting rules and conventions, the UR-100 « C-3PO » is fanatical about breaking rules and conventions. As the original C-3PO was reconstructed from heaps of scrap metal on the planet Tatooine, the UR-100 was meticulously assembled from high precision components in Geneva.
And just as the lovable golden droid has cemented its place in the collective imagination of science fiction lovers, URWERK's golden UR-100 carves out its own niche in the hearts of sci-watch aficionados.
For more information, visit the official Hour Glass website.