Following on the success of the inaugural edition of LVMH Watch Week in Dubai last year, the group's watchmaking Maisons, Bvlgari, Hublot and Zenith are sharing their latest creations and developments with press and clients around the world to start the year on a positive momentum.
For the 2021 edition of LVMH Watch Week, the group's watchmaking Maisons are creatively combining the convenience of digital meetings using state-of-the-art tools with the hands-on experience of one-to-one physical presentations in 15 countries, offering attendees a seamless, informative and interactive experience to discover the four brands' latest releases. The LVMH Watch Week 2021, is taking place from January 25th to 29th digitally from the various manufacturers.
Here are the top highlights:
BIG BANG TOURBILLON AUTOMATIC ORANGE SAPPHIRE
Transparent, black, yellow, blue, red – Hublot has mastered the creation and machining of sapphires with exclusive shades for its watchcases. With the new Big Bang Tourbillon Automatic Orange Sapphire, the brand has once again achieved a world first by adding a completely new colour to its palette of through-tinted sapphires. This unprecedented technical and aesthetic feat is combined with an entirely new tourbillon movement not only equipped with self-winding, but also with a reinvented architecture with its micro-rotor visible on the dial side and three sapphire bridges. A new fusion of daring and transparency, in a limited edition of 50 pieces.
BIG BANG INTEGRAL CERAMIC
Following on from its black ceramic, Hublot has launched its BIG BANG INTEGRAL in three new ceramic colours: white, navy blue and grey, all with built-in scratch-resistance, durability and hypoallergenic properties. Its monobloc architecture – an integrated bracelet on which the first link is fused with the case – affirms Hublot's integral single-colour, single-material style.
BIG BANG ONE CLICK 33MM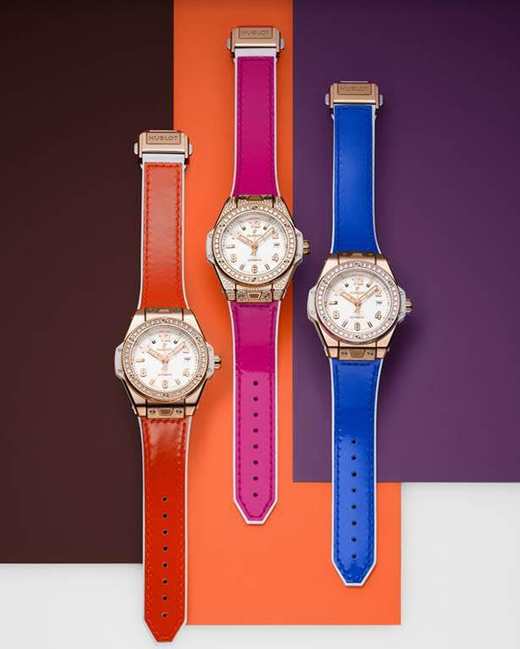 To open up happier horizons, Hublot is flying the colours of the better days to come with the Big Bang One Click 33mm, available in stainless steel or in King Gold with interchangeable straps. Its case has been refined to wrap itself around slender wrists and can change appearance in no time at all to suit your mood.
BIG BANG MP-11 MAGIC GOLD & BLUE SAPPHIRE
Hublot reasserts its unrivalled expertise in cutting-edge materials by housing its MP-11 manufacture calibre in two new exclusive cases, showcasing its scratch-resistant Magic Gold alloy and the transparency of its high-tech synthesis technology Blue Sapphire. The brand is offering enthusiasts two new versions of its Big Bang MP-11 watch, an instrument with a spectacular look which reveals its seven in-line barrels – which guarantee an unrivalled power reserve of 14 days – through the open dial.
CLASSIC FUSION ORLINSKI 40MM
Richard Orlinski's now emblematic edges, facets and bevels have been artistically sculpting Hublot watches since 2017, when he and the Swiss watchmaker presented their first artwork to be worn on the wrist. Not even ceramic, not even a dial! The Classic Fusion Orlinski 40mm now comes in a monochrome mode in two editions entirely clad in ceramic, with the exception of the strap and the crown. In terms of colorimetry, the flashy blue and gloss black are reminiscent of the colour codes used in the artist's XXL bestiary.